Mediterranean Chicken & Chickpea Stew – Vegetarian version in our 'FuelFood Cookbook' out Early Jan 2016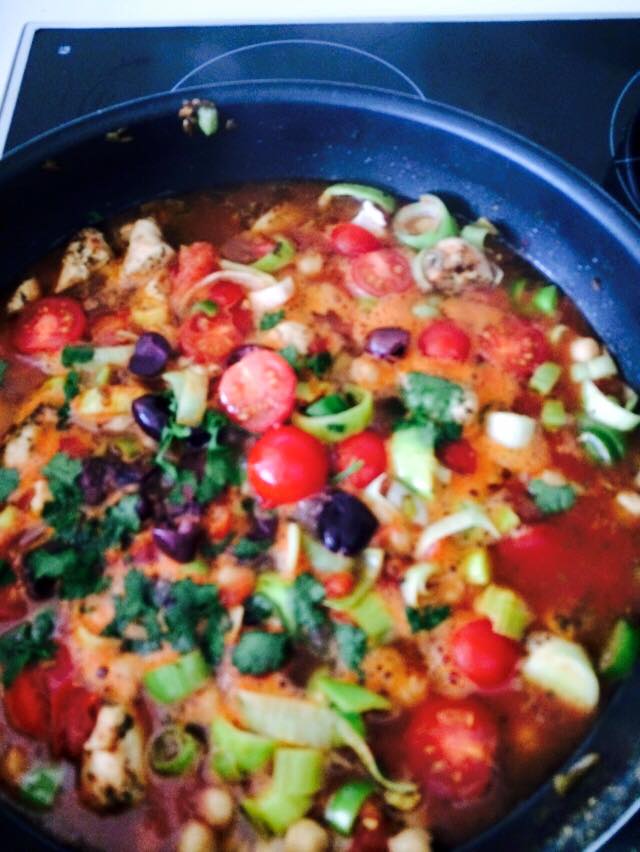 Chef: Oliver McCabe, from Select Stores Fuel Food Dalkey
Ingredients:
3 fillets of free range chicken diced
2 medium leeks
2 tablespoons extra virgin olive oil
1½ teaspoons ground coriander
1 teaspoon ground cumin
1 teaspoon ground fennel seed
½ teaspoon Himalayan fine rock
Salt
⅛ teaspoon cayenne pepper
1 x 400g can of chopped tomatoes
1 x 400g can of chickpeas, rinsed and drained
12 Kalamata olives, pitted and chopped
Zest of 1 lemon
1 tablespoon freshly squeezed lemon juice
180g millet
350mls of water
Cooked millet or basmati rice, to serve
80g feta cheese, broken into small pieces, to garnish
Method:
1. Trim the leeks, slit them in half lengthwise and rinse well under running water to remove any sand or grit. Coarsely chop the leeks.
2. Heat the oil in a large saucepan over a low to medium heat. Add the chicken, leeks, coriander, cumin, fennel seed, salt and cayenne pepper.
3. Cook, stirring often, for about 5 minutes, until the chicken is browned and the leeks are soft.
4. Place the millet in a pot and add 350mls of water. Set the millet to medium high heat and when it starts boiling turn the heat down to low and cover the pot.
5. After 10-15 minutes all the water should be absorbed and the millet will be cooked.
6. Add the tomatoes with their liquid, the chickpeas, olives and lemon zest and bring to a boil.
7. Reduce the heat to medium and cook, stirring occasionally, for about 15 minutes, until the tomato sauce is very thick.
8. Remove from the heat and stir in the lemon juice.
9. Serve immediately over cooked millet, rice or with wholewheat bread and garnish with the feta cheese.
http://www.tv3.ie/shows/sundayam/article/1.65.1451.1508/183556/Mediterranean-Chicken–Chickpea-Stew
Comments
comments