Oliver TV3 Saturday AM Recipe 05/09/15
Recipe by Oliver McCabe of Select Stores 'Fuel Food' Dalkey
1 Railway Rd Dalkey
www.selectstores.ie
twitter @FuelFoodOliver or @selectstores
email info@selectstores.ie
Cookbook out Christmas 2015/New Year 2016
Recipe:
Gubbeen chorizo with spinach and red onion in a homemade roast red pepper tomato sauce
topped with feta cheese
serves 4
ingredients
150g of chorizo peeled and sliced
200g red onions peeled and chopped finely
125g of baby spinach
1 tsp of rapeseed oil
sauce
350g of deseeded red peppers chopped into wide long strips
300g of hair loom tomatoes
2 cloves of garlic peeled
50g of basil leaves
1/2 tsp of dried thyme
1 tbsp of rapeseed oil
a pinch of salt and pepper
1 tsp of honey (optional)
250g of corn pasta spirals
400ml of water
topping
100g of feta cheese crumbled
method
wash all your vegetables before use.
segment 1
Heat water over high heat until boiling then bring to a simmer.
(Anna) start with placing the chopped peppers in a bowl and drizzle with oil and season with salt and pepper. Mix Well.
place the peppers on a baking tray individually and place in a preheated oven 200C/Gas Mark 6/400F for 40 minutes.
(Oliver) In the meantime with a small sharp knife take the fibrous tissue of the outside of the chorizo. It should peel off easily enough once snipped. Then slice. Add oil to a wok pan. Then add onions, chorizo and spinach. Stir and cook on medium heat for few minutes until chorizo is toasty, onions are wet and spinach has sautéed. set aside.
Place pasta in hot water for 10 minutes stir occasionally until al dente. keep a cup of the hot starchy water for sauce.
Then strain and rinse and set aside in a colander.
(off camera) Take the blackened peppers out of the oven and let cool in a small Tupperware container sealed for five minutes so they steam away. Then take them out and peel the skin off with a small knife.
segment 2
(Anna) cut cheese into cubes and crumble with fingers
(Oliver) place the peeled peppers in a blender with tomatoes, garlic, basil, thyme, salt, pepper and honey. Also add some of the starchy water from pasta to bind sauce. Then blend for 10 -15 seconds until smooth consistency.
Then pour sauce into wok with other ingredients and stir and heat on medium to high heat for few minutes until warm and bubbly.
(Anna) place pasta in 4 pasta bowls
(Oliver) Ladle chorizo sauce over pasta and garnish with cheese.
Serve Immediately
Bon Apettite!
https://www.tv3.ie/shows/saturdayam/article/1.65.1450.1507/177432/Chorizo-Spinach-and-Red-Onion-Pasta-in-a-homemade-red-pepper-tomato-sauce-topped-with-Feta-Cheese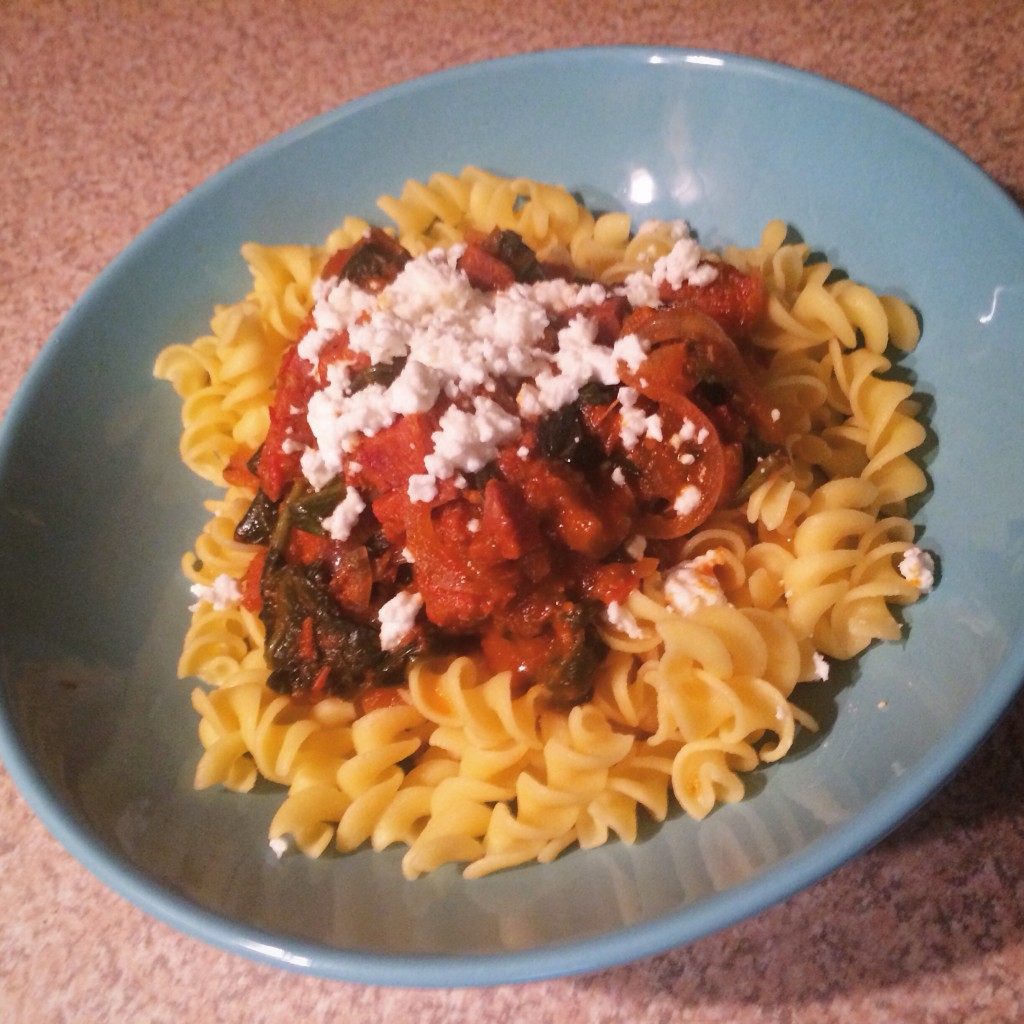 Comments
comments