LAUNCHING: JANUARY 8TH, 2016
FUEL FOOD COOKBOOK – BUY NOW! & OLIVERMCCABE.IE - VISIT THE FUELFOOD COOKBOOK WEBSITE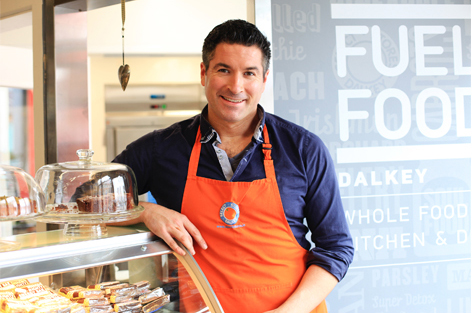 Oliver's love for nutrition started on his travels to Australia and the USA where he worked in various organic, vegetarian cafes and stores picking up ideas along the way especially in Sydney, Cape Cod, Boston, New York and San Francisco.
He returned to Ireland in 2001 where through this experience he became aware of his own food sensitivities and the power of healing foods.
In 2004, Oliver reinvented his parents Select Stores Dalkey established 1959. from traditional family greengrocer to dynamic healthy organic wholefood store with award winning natural juice bar. In 2007 he graduated from The Irish Institute of Nutrition and Health where he was trained by Ireland's top nutritional therapist Richard Burton.
Throughout the years Oliver has given healthy eating talks and demos in schools, college plus corporate health & food events. He has written for Easy Health magazine and is involved with the student Spunout organisation.
Oliver speaks about how important healthy eating is in this day and age and makes people aware of what is in food and drink today. His talks stretch from importance of vegetables in one's diet to coeliacs to skin awareness through cleansing and juicing etc.
Some Career Highlights…
Oliver has featured on TV3's 'Xpose' & 'Ireland AM' plus RTE's 'Capital D', 'The Afternoon Show' and 'Nationwide' tv shows.
In May 2011 Oliver was invited to write for Irish Parent Magazine on issues that tackle parents day to day with their children on the subject of health and nutrition.
Olivers chosen charities are Irish Cancer Society, Barnardos, Crumlin Children's Hospital and Temple Street Children's Hospital.
Co Director/Founder of the 1st Dalkey Book Festival in 2010 and the Dalkey Business Group
In 2012 Oliver began writing nutritional recipes and advice with the Irish Independent newspaper and Mistletoe Magazine.
In June 2013 Oliver organised 'Health on the Hill' event with leading global nutritionists Dr. Marilyn Glenville, Bernadette Bohan and Patrick Holford.
In January 2014 Oliver's Super Cleanse Smoothies went on sale at The Restaurant at Brown Thomas Dublin breakfast and lunch menus.
In August 2014 Oliver began contributing nutrition foodie tips, advice & recipes to Irish Country Living part of Irish Farmers Journal.
In 2015 Oliver began contributing to Image Magazine & Image.ie along with Chef appearances on TV3 Saturday & Sunday AM live shows.
In January 2016 Oliver's Cookbook 'The FuelFood Cookbook' will be released nationwide.
Oliver's motto is 'Every healthy customer has a wealthy soul'.


---

For the latest information on nutrition and health recipes keep up to date with Oliver on
Facebook and Twitter, with Oliver McCabe Nutrition

Facebook:

https://www.facebook.com/#!/olivermccabe75

Twitter:

https://twitter.com/NutritionOliver

with Oliver at Select Stores Dalkey