This is derived from a recipe my Mum would have made us on Sunday mornings. It's our customers' favourite breakfast at Select Stores as its tasty, filling & light.
---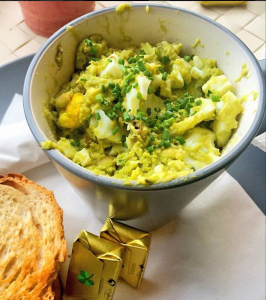 'Eggcado' Organic Chopped Boiled Eggs with ripe Avocado & chives
2015-04-25 23:55:23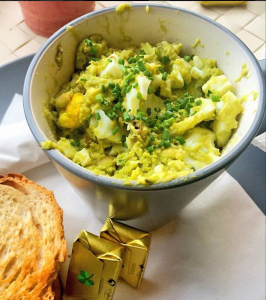 Serves 1
High in dietary fibre & essential fats.
Nutrition Facts
Amount Per Serving
* Percent Daily Values are based on a 2,000 calorie diet. Your Daily Values may be higher or lower depending on your calorie needs.
Ingredients
2 organic eggs
1 medium ripe peeled avocado
1 tsp of olive oil
Salt and pepper
Pinch of minced fresh chives
1 slice of Spelt Bread
Instructions
Boil water in medium saucepan until hot.
Put eggs in saucepan in hot water for about 8 minutes until eggs hard boiled.
Rinse boiled eggs in sieve under cold water then peel eggs quickly.
Mash peeled boiled egg with oil and salt and pepper in a small bowl.
Add Avocado and mash away until roughly chunky smooth.
Toast and slice Spelt bread into soldiers
Sprinkle chopped chives on mashed egg
Serve mashed egg in small cup and toast on plate beside.
Notes
Contains Eggs & Gluten
Select Stores - Fuel Food: Award Winning Health Food Store, Dalkey, Dublin. http://selectstores.ie/2015/
Comments
comments