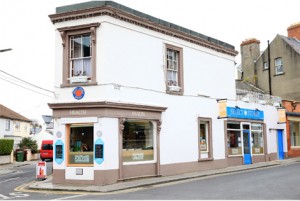 Select Stores Dalkey reinvented in 2015 with a new whole food kitchen & deli & café as part of their dynamic passionate health food shop.
Select Stores Fuel Food serves eat in or take out or made to order healthy homemade freshly made breakfast, lunch, dinner & snack ideas compromising of organic eggs, oats, omelettes, wraps, pitas, veggie burgers, whole food salads, soups, stews, veggie bakes, non veggie bakes, sugar free sweets & treats and of course our famous juice bar with smoothies, juices & cleanses. We serve a full range of gluten free, dairy free, sugar free menu items.
Select Stores Dalkey was established as a family business in 1959 by Paddy & Margaret McCabe.
Today it's run by their youngest son Oliver, General Manager Whole Food Chef & Nutrition, Daughters Mairead, Front of House & Hilary, Sous Chef and older son Leo, Owner & Fuel Merchant.
Recent Achievements
Top 10 'Healthiest Cafes/Delis in Dublin' by LovinDublin.com popular Irish critique site
Top 10 'Best Shops in Ireland' The Irish Times voted by readers & public
McKenna's Guides 'Best Whole food Store' Best in Ireland 2015 recommended Irish Food Guides
Our Promise
We founded Select Stores Dalkey and began selling healthy & organic food for three reasons:
To contribute to the personal well being of our customers.
To protect the health of the Earth.
To make eating a robust and joyful event.